No matter our differences, I think we can all agree that Friday is the best day of the week! Friday means the weekend is nearly here, and the weekend means freedom!
Need help to get into that Friday spirit? Here are 55 Friday Quotes for Friday motivation from some enlightened individuals, from F. Scott Fitzgerald to Ice Cube!
While you read these quotes, ask yourself, "How can I make every day a little more like Friday?"
55 of the Best Friday Quotes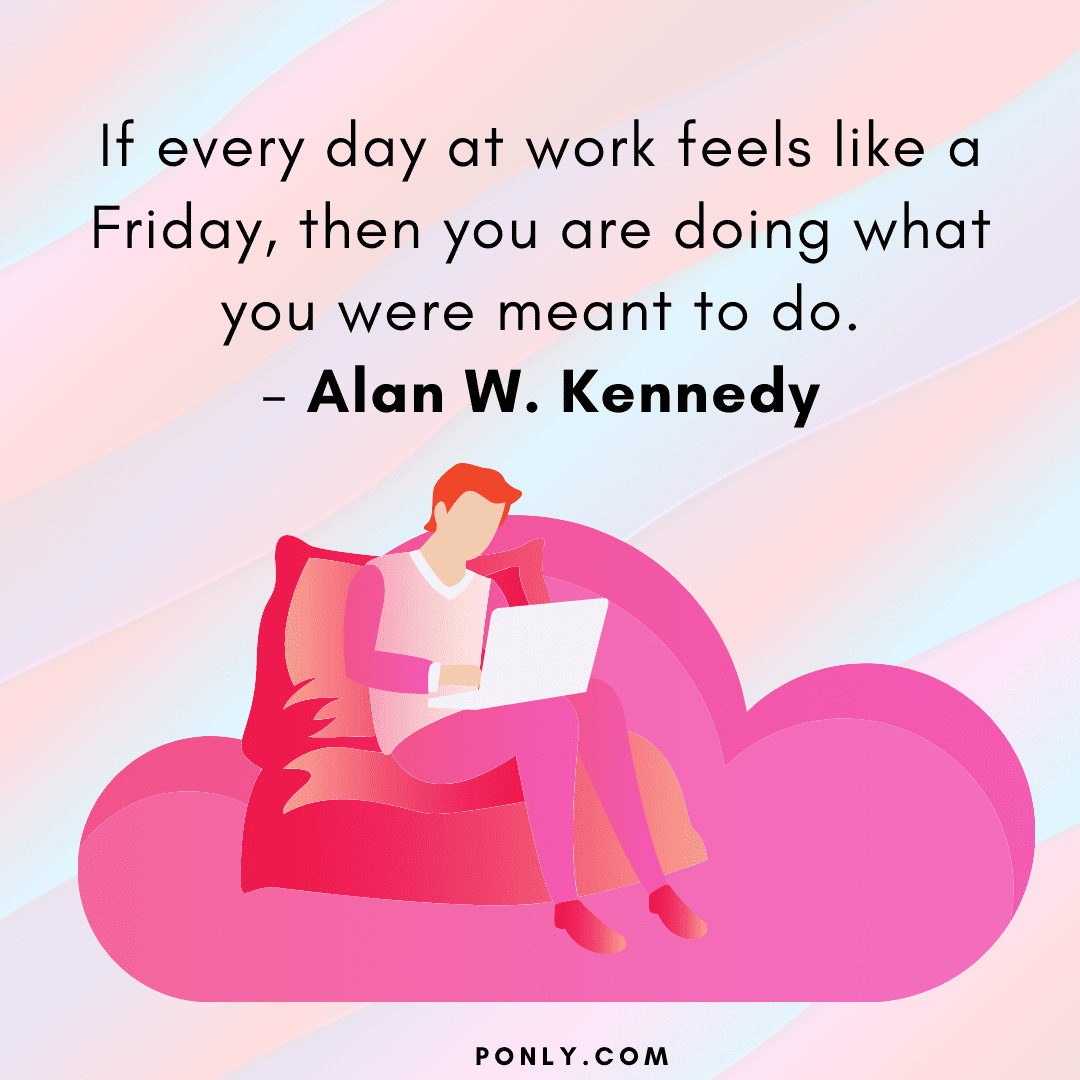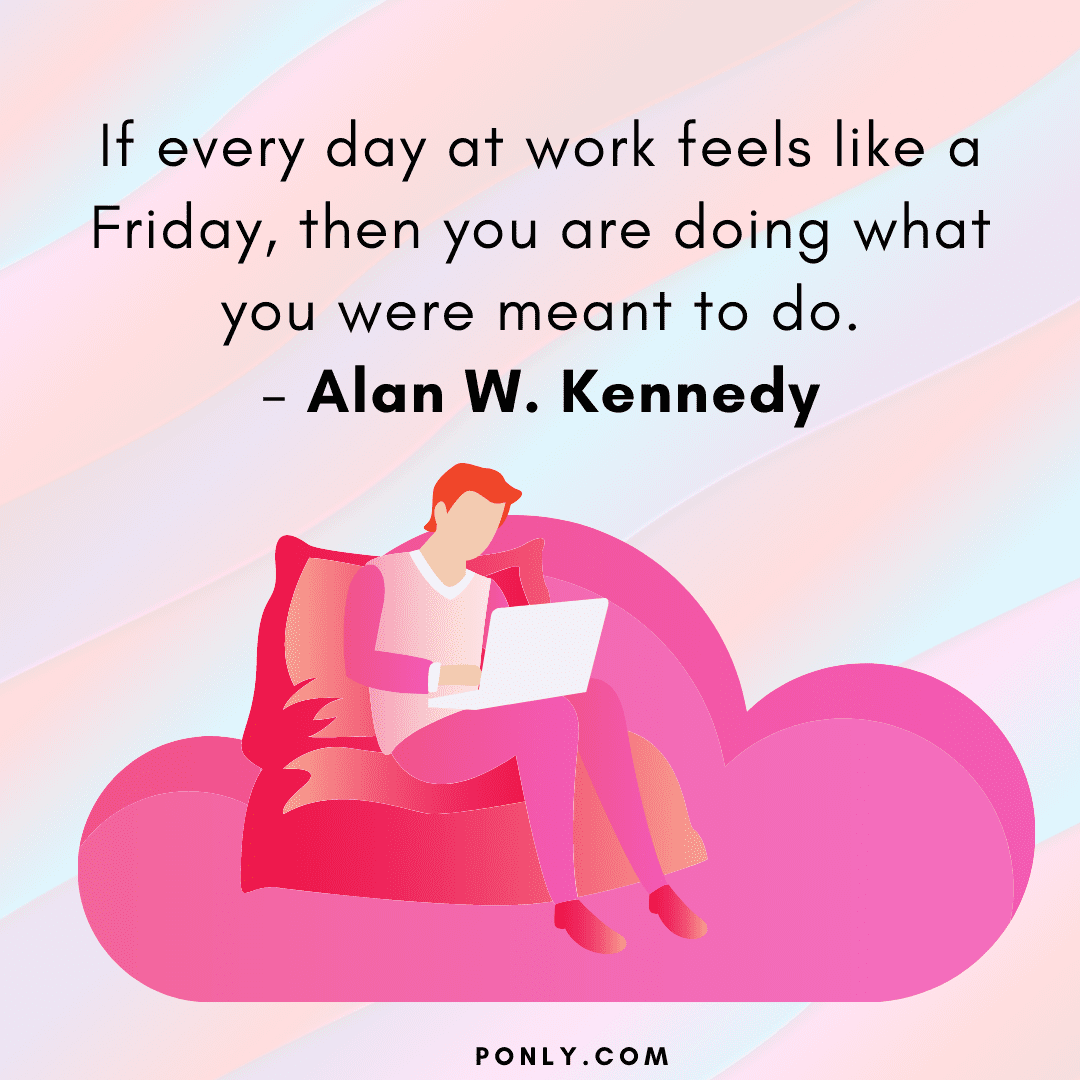 "If every day at work feels like a Friday, then you are doing what you were meant to do." – Alan W. Kennedy
"Friday afternoon feels like heaven." – El Fuego
"If my boss knew how unproductive I am on Fridays, he wouldn't want me here either." – James Johnson
"Fridays are the hardest in some ways; you're so close to freedom." – Lauren Oliver
"Friday is like a superhero that always arrives just in time to stop me from savagely beating one of my coworkers with a keyboard." – Rico
"Life is like Friday on a soap opera. It gives you the illusion that everything is going to wrap up, and then the same old ***t starts up on Monday." – Stephen King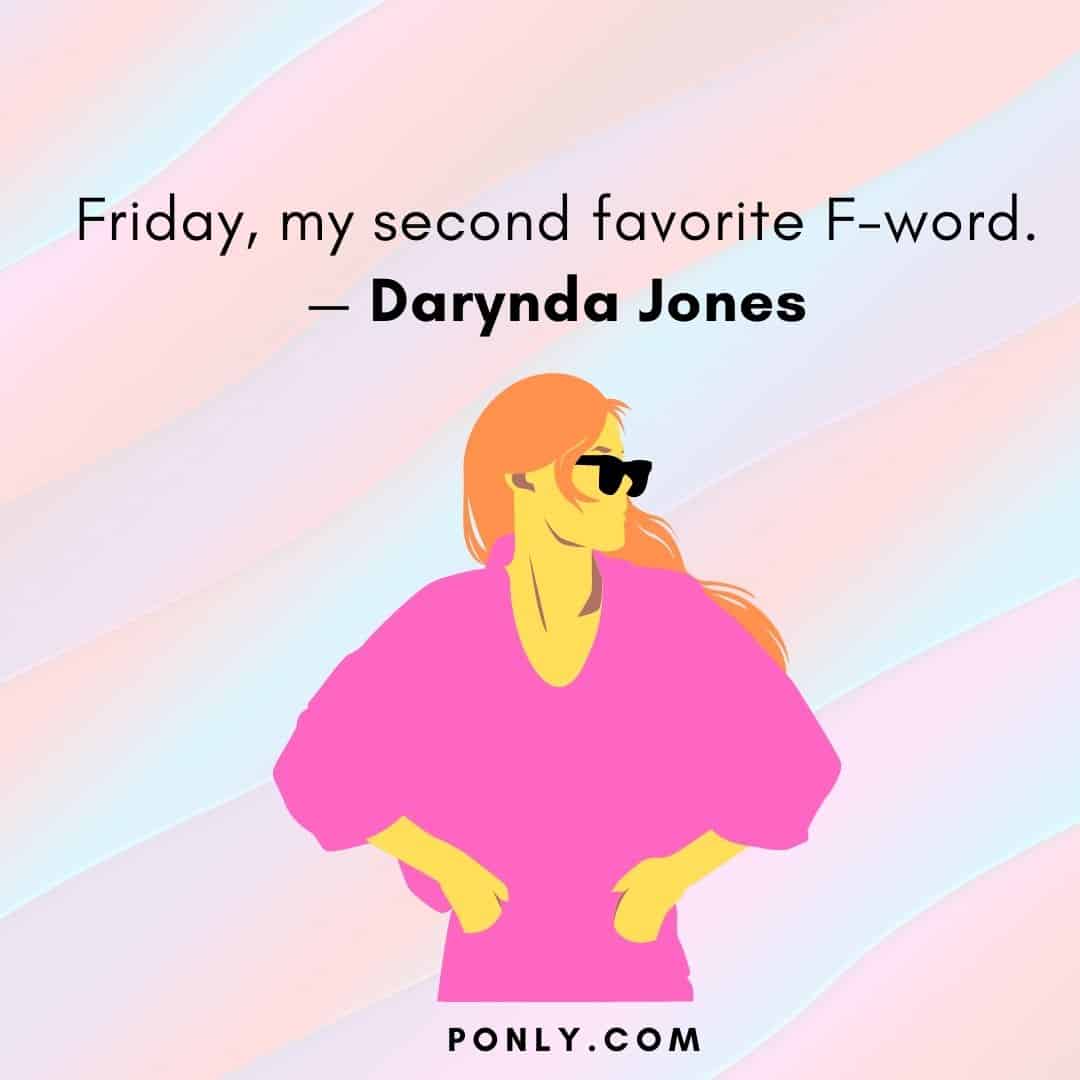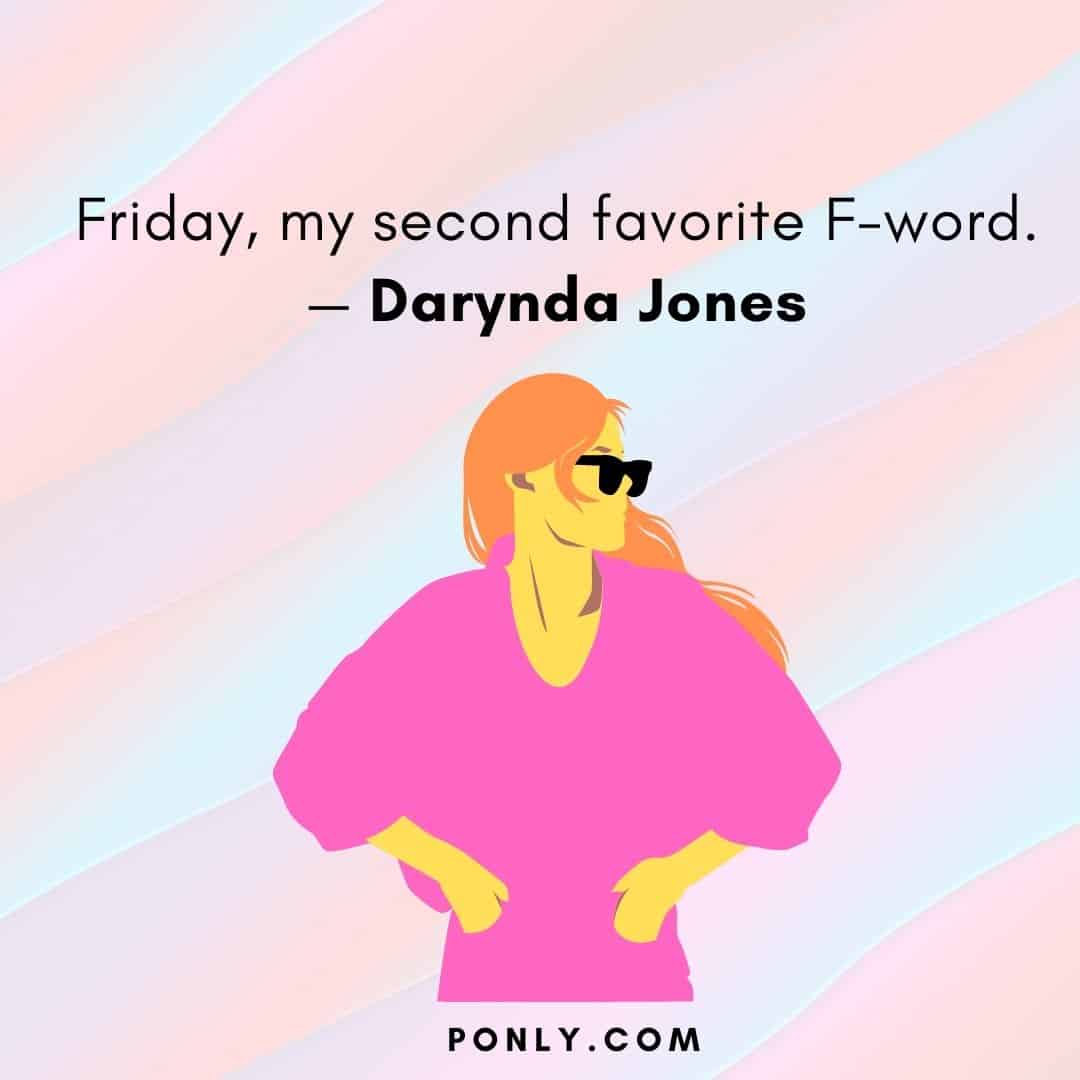 "Friday, my second favorite F-word."– Darynda Jones
"On Monday morning, I look forward fearlessly to Friday's eve."– Ellen Wittlinger
"Although I understand that all days are equal with 24 hours each, most of us agree that Friday is the longest day of the week and Sunday the shortest." — D.S. Mixell
"For people who don't like what they do, Friday is the best day.
For those who love what they do, Monday is the best day.
For people who have found their passion, each day is the best."
– Hrishikesh Kamat
"It's Friday morning mankind! Good vibe, don't frown and let the monster see you smile!" — Napz Cherub Pellazo
"Friday sees more smiles than any other day of the workweek!"— Kate Summers
"Oh! It's Friday again. Share the love that was missing during the week. In a worthy moment of peace and bliss." — S. O'Sade
"Every Friday, I like to high five myself for getting through another week on little more than caffeine, willpower, and inappropriate humor." —Nanea Hoffman
"Friday is a day to finish your goals for the week. It is a day to celebrate that which you set out to accomplish at the beginning of the week." —Byron Pulsifer
Next: 50 Fabulous Friday Jokes
"Friday is about hanging out with friends, having fun." — Rebecca Black
"When you leave work on Friday, leave work. Don't let technology follow you throughout your weekend (answering text messages and emails) take a break you will be more refreshed to begin the workweek if you have had a break." — Catherine Pulsifer
"Hands up if you're ready to do something you'll regret this weekend. Go forth! You have my blessing." — Florence Welch
"On a Friday night, I like to go out because my friends, who have been working normal hours, just want to let go after a stressful week at work." — Douglas Booth
"I don't care if Monday's blue, Tuesday's gray and Wednesday too. Thursday, I don't care about you. It's Friday I'm in love." — The Cure
"This Friday, finish your work and be done. Look forward to the weekend and have some fun!" — Kate Summers
"Music always sounds better on Friday." — Lou Brutus
"It's finally Friday, I'm free again. I got my motor running for a wild weekend." — George Jones
"You should know better. It's right. It's time for you and I. Friday is forever, and we should be together tonight." – We the Kings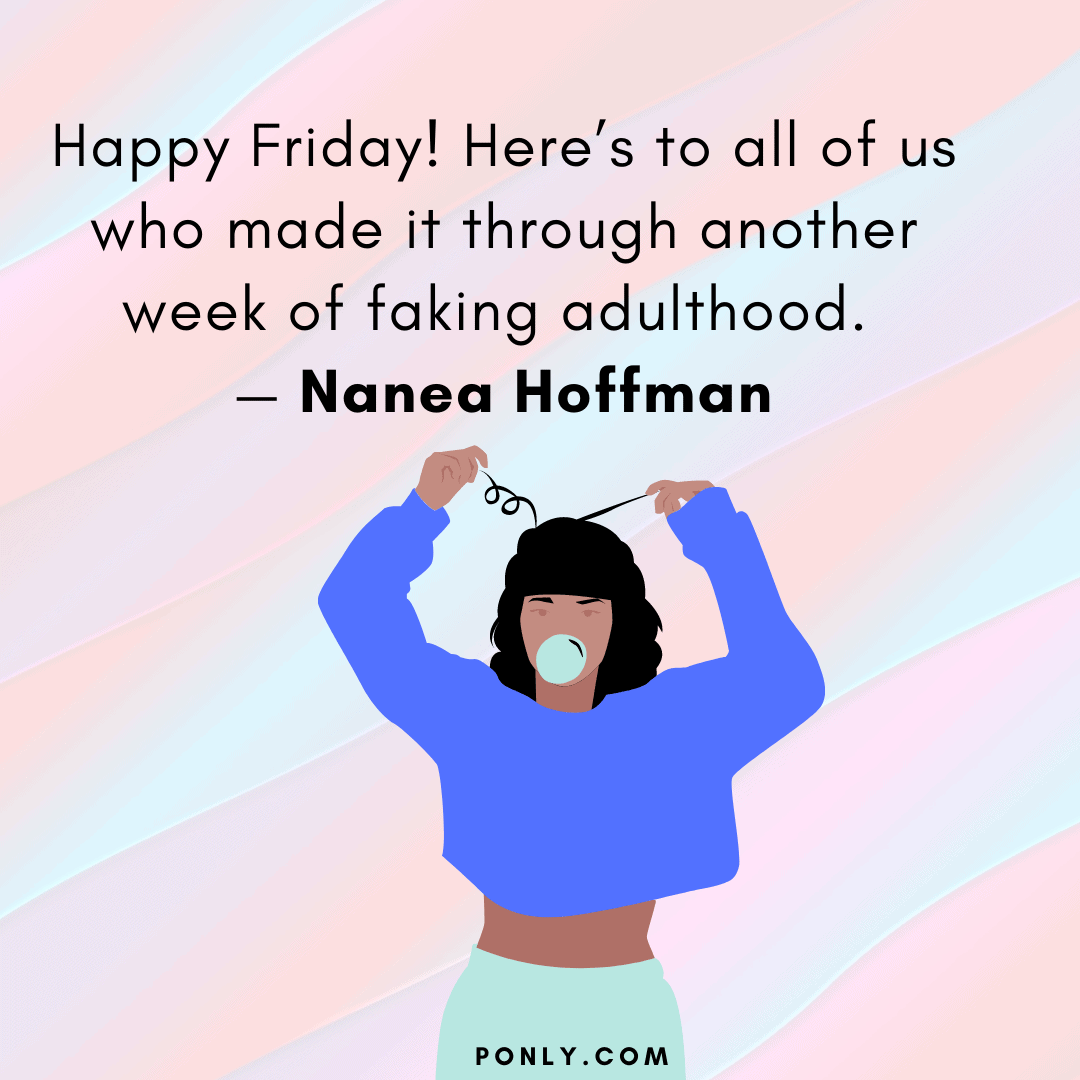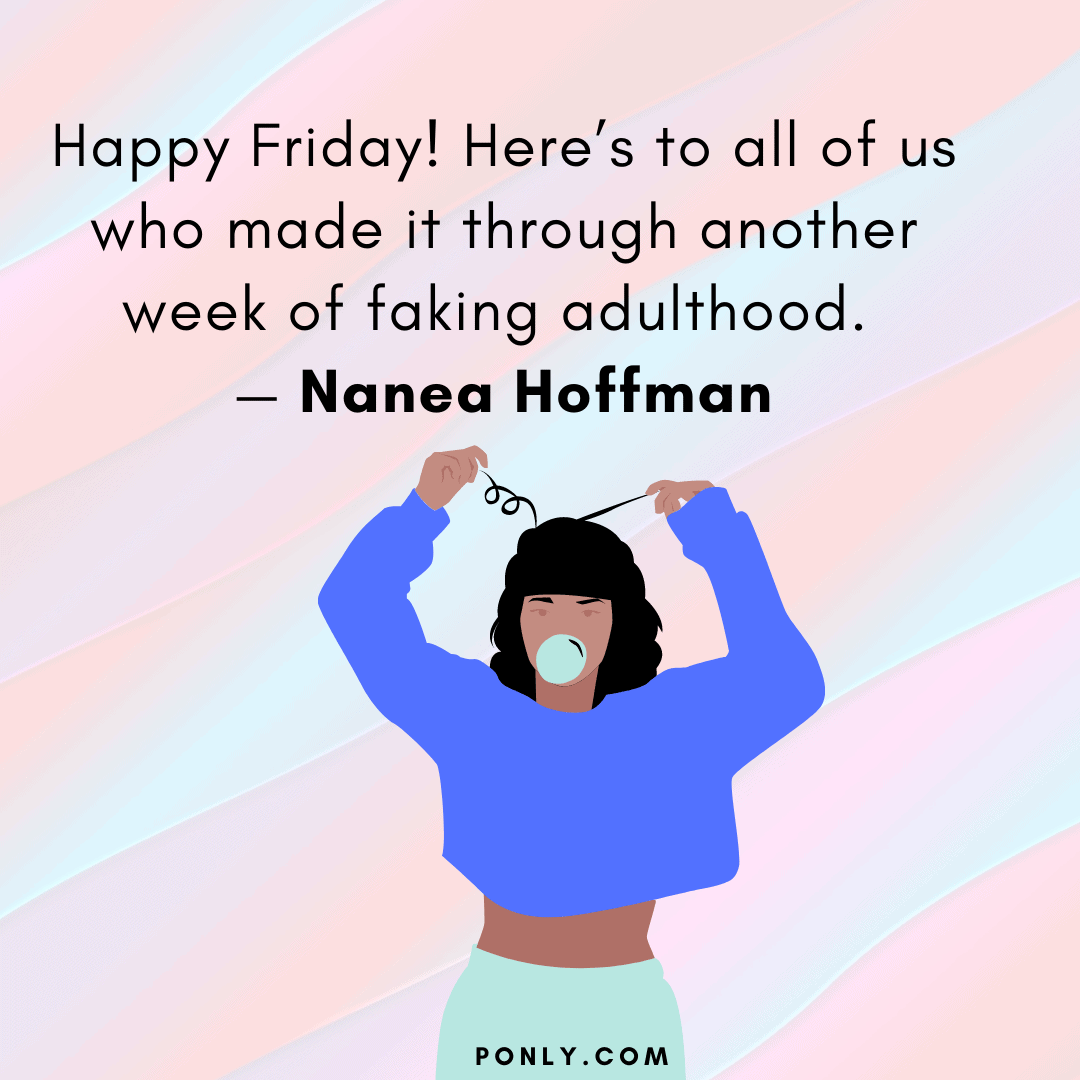 "Happy Friday! Here's to all of us who made it through another week of faking adulthood." — Nanea Hoffman
"It's always difficult to keep Fridays confined within themselves…they tend to spill over…" — Parag Tipnis
"You know what I want to do? Wake up one weekend and not have to go anywhere and do nothing." — Derek Jeter
"I believe that it is a mandatory Law of the Universe that on Fridays, you have to do something a little fun." — Hanna Rhoades
"When you start to do the things that you truly love, it wouldn't matter whether it is Monday or Friday; you would be so excited to wake up each morning to work on your passions." — Edmond Mbiaka
"If you must have motivation, think of your paycheck on Friday." — Noel Coward
"It's 4:58 on Friday afternoon. Do you know where your margarita is?" — Amy Neftzger
"Without the weekend, where would the week be?" — Anthony T. Hincks
"I have never in my life found myself in a situation where I've stopped work and said, 'Thank God it's Friday.' But weekends are special even if your schedule is all over the place. Something tells you the weekend has arrived, and you can indulge yourself a bit." — Helen Mirren
"I am always happy to meet my friend, and my friend is my weekend." — Debasish Mridha
"People wait all week for Friday, all year for summer, all life for happiness." — Raimonda B.
"I wanna be your Friday night sweet ride. Summertime sunshine barefoot in the moonlight." – Lady Antebellum
"Making food is a wonderful way to spend a Friday night." – Chrissy Teigen
"If showing up in a robe and tiara with a box of wine is wrong, then maybe I don't fully comprehend how Casual Friday actually works." – Abby Heugel
"Happy Friday you beautiful human." – J. York
"Youth is like a long weekend on Friday night. Middle age is like a long weekend on Monday afternoon." – Richard Nelson Bolles
"I do like escapism. I like going to the movies on a Friday night and seeing something fun." – Charlie Kaufman
"Employers are at their happiest on Mondays. Employees are at their happiest on Fridays." – Mokokoma Mokhonoana
"You know you're doing what you love when Sunday nights feel the same as Friday nights." – Donny Deutsch
"If you've got some news that you don't want to get noticed, put it out Friday afternoon." – David Gergen
"Man was made at the end of the week's work when God was tired." – Mark Twain
Next: 25 Clean And Fun Office Pranks That Will Brighten The Work Day
"I never have written every day. When I'm writing a book, I write Monday through Friday. I always try to take Saturday and pretend to have some sanity." – Maya Angelou
"Weekends are a bit like rainbows; they look good from a distance but disappear when you get up close to them." – John Shirley
"The rhythm of the weekend, with its birth, its planned gaieties, and its announced end, followed the rhythm of life and was a substitute for it." – F. Scott Fitzgerald
"Let the good times roll when the guitars play. Here's to another week gone. Raise 'em up and sing along. Friday can't come fast enough." – Rascal Flatts
"It's Friday! High five!" – Chris Hankin
"It's not that we spend five days looking forward to just two. It's that most people do what they enjoy most on those two days. Imagine living a life where every day is your Saturdays and Sundays. Make every day your weekend. Make every day a play-day." – James A. Murphy
You did not disturb Hemmingway before noon on Monday through Friday – he was in his office, writing the books that made the lifestyle possible." – Michael Gerber
"You can't have Thanksgiving without turkey! That's like Fourth of July without apple pie, or Friday with no two pizzas." – Joey Tribbiani
"Make Friday a day to celebrate work well done that you can be proud of knowing that you just didn't put in time to the next pay check." – Byron Pulsifer
"You know it ain't no stoppin' all the dogs I'm droppin'. It's Friday night so everything is poppin'. I gots tens to spend on the Hen. So let the games begin." – Ice Cube